Aug. 2, 2016
IN THE DAYS after Travis Moore was murdered, his older sister, Tomika, started a scrapbook where she could store her favorite memories of her brother.
As she glued photos of Travis into the book, she remembered his constant smile and the way he always seemed on the verge of cracking a joke. She pasted in his report cards, the ones that showed his 3.0 GPA, his awards from the football and track teams at West Charlotte High School, his name tag from his part-time job working at The Athlete's Foot, and pictures of him playing the role of father figure and uncle to her then-seven-year-old daughter, Janija.
The book, she knew, would have an ending. She braced herself for that.
The end began on February 18, 2007, the day 17-year-old Travis was shot in the head while attending a Sweet Sixteen party in east Charlotte. Details of what happened that night are hard to pin down, but everyone agrees Travis wasn't intended to be a victim.
Yet somehow he was the one on the living room floor of the apartment after a single shot was fired into the party, his blood rapidly staining the carpet.
Travis had been living with Tomika, then 24 years old, for nearly five years. They were more than just brother and sister; they were best friends, confidants, protectors. He was only a teenager, but Travis watched young Janija, his niece, while Tomika juggled two jobs and psychology courses at UNC Charlotte. He jokingly gave his sister a midnight curfew. He asked her for advice about dating girls. When Travis brought home a 2.87 GPA one semester, Tomika demanded that her little brother raise it to a 3.0 if he wanted to continue playing football.
On the last page of the scrapbook that she could bear to complete, Tomika placed a copy of the program from Travis's memorial service. She added a picture of his casket, white flowers cascading from the center and pink, heart-shaped balloons floating on either side.
Finally, she tucked in a photo of Travis's grave marker, showing the dates when her brother's life began and ended: July 20, 1989 and February 18, 2007.
But she couldn't finish the book.
"When I get to the end, I want that end to be them saying, 'This is the person who did it,' " she says now, her voice breaking. "I want that to be that last news clip, that last article that goes into the book."
Nine years later, Tomika still waits to complete the final page.
So far, nothing.
No one has identified the shooter—despite a packed party full of teenagers who danced alongside him throughout the night. About two years after Travis's death, sick from the perpetual anguish, Tomika stopped expecting any updates. Life got busy, the years began to slip away, and Tomika's scrapbook remains untouched and unfinished.
"And I don't think it's just me wanting to know why," she says. "I think society and his friends and everybody else wants to know. Somebody who's 17 years old, life ahead of him, all of these great things going on. Who would do that? Why would someone do that?"
***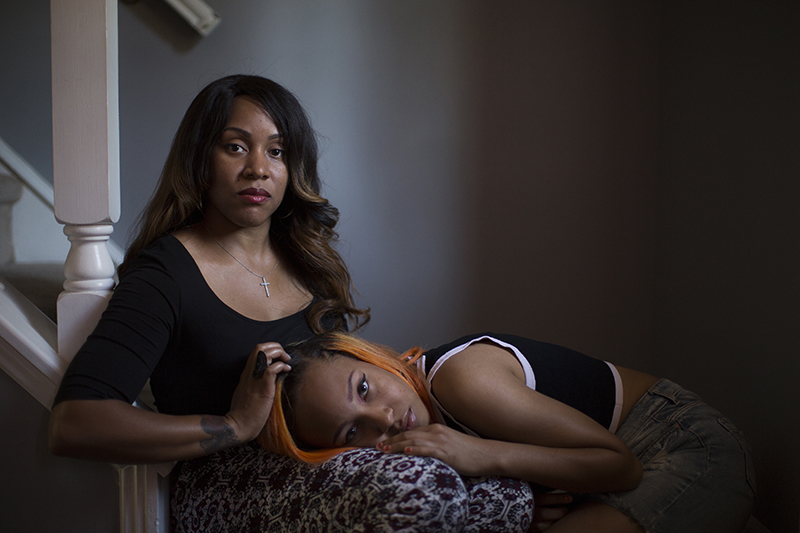 TRAVIS MONTEZ MOORE dreamed of being the first man in his family to attend college. He still had more than a year left at West Charlotte High School in 2007, but he had his sights set on a career in medicine, maybe as a forensic scientist or doctor. He wanted to attend UNC Chapel Hill.
No one doubted he could achieve it. He was a well-mannered kid who was liked by just about everyone who met him.
He spent his early childhood moving around. His aunt helped raise him while his mother, Helen, dealt with personal problems. Still needing discipline and craving a father figure, at age 9 he went to live with a cousin and his wife, who was stationed in the military in Germany.
Travis spent about three years living abroad, learning the manners and respect that would become defining characteristics. But when his cousin became ill with cancer, Travis, then 12, came back to the United States to live with Tomika. She was only 20 and had a toddler of her own to care for, but Tomika built upon the discipline her cousin instilled in her brother, and he thrived.
Friends knew him as the easygoing jokester, able to travel between various high school cliques with ease. His sister knew she could depend on him to help with Janija. He was the kind of kid who would choose to stay home on weekend nights when Tomika was sick with a cold and feed her soup rather than go out.
He also played wide receiver for West Charlotte's football team, making the varsity squad his junior year. He ran track in 10th grade, showing off his speed on sprint relay teams. And his love of sneakers—he kept boxes of them lined up under his bed— led him to a part-time job at The Athlete's Foot.
Travis worked late at the shoe store that Saturday night in February 2007, when his friends called to tell him they were going to a birthday party on the east side of town. Travis was tired, but these were some of his closest buddies, including Quay Long, and the opportunity to dance, have fun, meet girls, and hang out was irresistible. Eventually, he relented and said he'd join them.
None of the young men remembers how they learned about the party, and none knew the girl who was celebrating her 16th birthday. They do remember that when they got there, only a handful of people were milling about. Earlier in the day, the girl had celebrated with family and her younger cousins, now asleep in one of the bedrooms. The girl's mother and another chaperone hovered around the party, keeping the nacho bar replenished. A Dora the Explorer cake was waiting to be devoured after the candles had been blown out.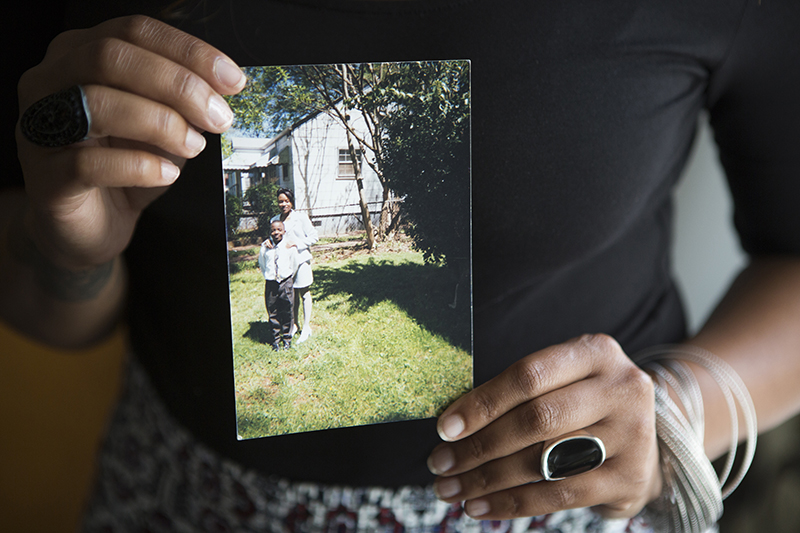 This wasn't quite the kind of party they'd expected.
Travis and his friends left and went to a McDonald's down the street. They called more friends, who agreed to meet them and head back to the party. They figured that with their own group of friends converging on the party, they'd have more fun.
They returned, more young people arrived, and soon, at least half of the estimated 30 to 50 teenagers in the cramped apartment were friends of Travis and his group. Someone turned on the music, turned down the lights, and everyone danced. A strobe light flashed. The only other illumination came from a few candles, a light in the hall and one from the oven. Faces faded in the darkness.
Several versions exist of what, exactly, happened at about 1 a.m.
It could be the story that first was reported in the news: Everyone was dancing when the birthday girl and her mother realized there was a boy nobody knew in attendance. He was asked to leave. Some time later, he came back, loomed in the doorway, and fired one bullet into the crowded party.
Or maybe it's what a couple of Travis's friends remember: Everyone was dancing, and when one particular song came on, Travis and his friends began to call out a refrain in time with the music. They shouted, "West Side!" while those who were from the other side of town responded, "East Side!" They're all quick to clarify that the chants were not gang-related, just youthful boasting about their side of town. While their chants echoed throughout the apartment, someone in the doorway shot into the crowded party.
Or maybe the shooter was the kid one of Travis's friends remembers seeing when he first walked in, a guy sitting on the doorstep getting his hair braided. Later, another of Travis's friends began to dance with the birthday girl, and the teenager— half his hair braided, half still in an Afro—saw her getting cozy with someone else. He spat out some angry words to the boy standing next to Travis, slammed off the lights, and fired a gun.
Several of Travis's friends don't remember that version of the story. They also don't remember any altercations, though the police report indicated there were two—one outside and one inside— before the shot was fired.
The only consistent description is that the shooter was a tall, black teenager with dreadlocks or braids.
And that Travis was never meant to be the target.
***
ABOUT A YEAR AGO, Detective Tim Jolly moved to the Homicide Cold Case Unit of the Charlotte-Mecklenburg Police Department. Jolly was born in Florida but raised in Charlotte, and has spent 29 years with the force, working Homicide since 2010.
A little more than a year ago, the cold case unit took up Travis Moore's case. Jolly began to look into the case once again, reexamining the file, talking to witnesses.
The best way to attack a cold case, Jolly says, is to reinvestigate the entire crime. Look at all the notes, read all the interview transcripts, then go back and talk to witnesses again. Cold cases often benefit from a fresh set of eyes examining all the details again, potentially seeing something that someone else missed. Additionally, constant technological advances, particularly in DNA analysis, often help uncover answers.
Travis's case is solvable, Jolly insists.
"There were a lot of people at the party that probably saw something," Jolly says. "They may not think they saw something that was very important, but it could be that small piece of the puzzle that gives us the whole, full picture as to exactly what took place, and we can bring some closure to the case."
Sometimes, the passage of time hurts a cold case investigation. A few months ago Jolly finally tracked down a witness he believed could break open another case … but then he learned she had Alzheimer's.
Sometimes, some distance from an incident helps. Teenagers at the party with Travis in 2007 now would be in their mid- to late 20s. Maybe they have different friends. Maybe they have families. Maybe they are now less afraid of giving a name to police.
Because someone who was at the party knows who killed Travis.
"That's one of the frustrating parts in our case, when we know the person's not telling us the truth and they have information," Jolly says. "It irritates me because it's their friend that was killed, and not mine. And that's what I tell them, 'Guys, I don't have a stake in this fight. It was your friend who was shot and killed, and you've got the information, and you're very reluctant because you don't want to be a snitch. And it's not being a snitch; you're telling the truth of what happened. It's the right thing to do.' "
Travis's case is one of a couple of dozen or so that the Homicide Cold Case Unit actively works. But it's impossible to devote all their time to a single investigation. Jolly will turn his attention to it for awhile, do the work that he can, then focus on another case.
The unit has only two full-time detectives, another two who work part-time hours, and a few volunteers. That crew is responsible for nearly 600 CMPD cold cases, some dating back to the 1950s.
One small bulletin board in the CMPD Cold Case Unit office lists recently solved cold cases. Another, much larger whiteboard spans the entire length of one wall and tracks when evidence in a case went to the lab for testing. Often, as technology improves, evidence is reexamined years later.
Still, the amount of evidence waiting to be tested is overwhelming for the small unit. On a recent visit, the whiteboard included a few cases still waiting for lab results from 2008.
IMMEDIATELY AFTER TRAVIS was killed, his friend Quay Long blamed himself for being part of the group that decided to go back to the party. Quay fought viciously with his mother as she questioned why they went to the party at all; he felt like she blamed him. It took him years to realize she was simply scared that he could have been killed, too.
Quay says he saw the shooter in the doorway while he and his friends chanted "West Side." But it was so dark. "I couldn't see any faces," he says. "Just a shadow, a silhouette."
The day after the murder, Quay went to a candlelight vigil for Travis. Someone passed out small photos of his friend, one of which Quay still keeps in his wallet today. He went to school the next week "because I needed a distraction," he says. The next football season, each game was dedicated to Travis and captains carried his jersey to midfield for the coin toss—as if he were a captain on the field, too. A year later, West Charlotte still handed Travis's honors diploma to his family.
Like Tomika, Quay also became frustrated waiting to learn how the investigation will end.
"I would get on Google and Google it a little bit to see, have they found any new information, have they had any new suspects?" Quay says. "But every time I Googled, it'd be no suspects, no suspects. Probably after a couple years, I seen it was a cold case and I just left it there. "
Ten years, almost? I feel like he got away. He took a good life."
The mother and daughter who held the birthday party in east Charlotte where Travis was killed never knew the boy whose blood stained their living room carpet. Still, they've undergone years of therapy after witnessing his death.
"We pray Travis's family will get justice and peace," says the girl's mother, who asked not to be identified. "Neither of our families deserved this senseless act of violence."
Travis's mom, Helen, has appeared on a few television news reports in recent years, trying to keep the case active and draw out anyone who might have information. (Attempts to interview her for this story were unsuccessful.) And every year for the past nine years, on the anniversary of Travis's death and on his birthday, his closest friends send each other messages. A few will gather at his gravesite at Beatties Ford Memorial Gardens. They talk and remember.
Tomika, though, hasn't been to her little brother's gravesite in more than two years. She used to go a couple of times a year, at least, to replace the fl owers and trim the grass along the edges of the marker—Travis always liked to keep a precise haircut, and this was her way of continuing that bit of his personality. But she realized that all her visits were her version of not accepting her brother's death. She had to put away most of the mementos she kept, too—his football helmet, his track awards, and most of his photos.
"I felt like I lost a breath," she says. "I lost a heartbeat."
This summer, she started taking classes again at UNC Charlotte. Tomika finally has the time to take the eight remaining classes she needs for her psychology degree. She hopes to be a family therapist. This fall, Janija will be a senior in high school—a year her uncle Travis never had a chance to complete.
Tomika isn't looking for justice as much as she's looking for answers.
"I want to know," Tomika says. "I want that closure. I want a face behind the bullet. And to know why. I've heard several stories, but until it comes from the person who did it, to say, 'Accidental, or argument, intended to shoot but not to do that …' I need more. I need more than what the police can give me."
Jolly says his greatest job satisfaction comes from finding a name to give to someone's family. He's done it before, and he wants to do it for Travis's case.
"That would be the most gratifying thing, to be able to close the case out for his family," he says. "Because he was a good kid."
But Jolly plans to retire in November. After that, the case will be passed along to another detective. Someone else will then reexamine all the details, review the notes and interviews, and flip through and re-read the case fi le.
And Tomika still will be waiting to complete her brother's scrapbook.
"Hopefully, prayerfully somebody that knows will say something," Tomika says.
‍