Oct. 17, 2009
AUGUST 6, 2008
Not one day of practice has passed before it all begins. The first high school coach is camped out in the parking lot next to the St. Thomas More practice field, that patch of grass in the shadow of the round, cinderblock church in Cleveland's Old Brooklyn neighborhood.
The sideline of the field is crammed with players who once played for the Wolverines and are now on the rosters of some of the best Catholic high school teams in the area — St. Edward, St. Ignatius, Padua, Trinity and Chanel.
They are there to watch and to catch up with old friends and old coaches.
But they are there, too, to start the gentle nudging and the subtle whispers of encouragement. Officially, no recruiting is allowed in Ohio high school sports. But everyone notices the coaches with the names of high schools plastered across their T-shirts in obvious advertisement, even if they can't talk to the players without breaking rules.
And what's to stop two teenage boys from talking?
As Ian Stuart walks off the field with a smile on his square, chiseled face, a stringy boy with sandy hair sidles up next to him.
"Lynch is going to Ignatius," the boy declares, simultaneously wrapping an arm casually around the shoulders of running back Danny Lynch and glancing at Ian. The boy grins, and Danny eyes his new recruiter curiously.
"Go to Ignatius and you'll be a doctor or a lawyer and make a lot of money," the lanky boy boasts.
Another STM alum, smaller and thicker than the one claiming Danny, catches the conversation and turns to Ian, who is merely smiling broadly as he watches the exchange.
"You're going to Ed's," the small boy challenges, his St. Edward T-shirt blaring his allegiance. "Get that in your mind."
Already, it has begun. The suggestions, the persuasion, and the not-so-subtle seduction. The boys have not yet begun eighth grade, and already they are being told where to go to high school.
Part of it is just the way the system works. Young boys in high school want the best players from the program that produced them to be their teammates. It's familiar, it's comfortable, and having old friends play alongside you is like coming home.
But part of it might have to do with some of the STM players on this eighth-grade team. They are just 13 and 14 years old, but in a few years they will be the ones making high school football headlines in Northeast Ohio. Already stars are beginning to emerge.
Ian just picked up the game a couple of years ago, but is such a naturally gifted athlete bundled in the 5-foot-8, 145-pound body of a more mature teenager that he became captain this season. He plays on both the offensive and defensive lines, and is also a champion wrestler and swimmer — always bursting with energy and eagerness to show off his abilities. He's the kind of exuberant kid who will leap head-first over 3-foot-high hedges during lunchtime recess — just because he can.
St. Thomas More, the storied program that has won 14 Catholic Youth Organization city championships, is trying to do something it hasn't done since the fathers of these children played: repeat. They were the 2007 champions, and during the team's spring meeting, Slama made sure to point to the banners that hung in the school's gym, the years of each city championship crammed on a square of fabric.
The last time the team repeated was in 1984-85. These kids had watched the undefeated eighth-grade team the year before, and now were confidently ready for their turn.
Months before today's practice, Slama had gathered his players in the school cafeteria to tell them what was at stake. "The good news is, we come off a great season," Slama bellowed. "The bad news is we come off a great season. Why is that bad news? Everyone wants to beat you. Everyone wants to beat St. Thomas More."
That's the way it has always been for teams that play STM in the CYO. It's the kind of football team that fathers send their sons to play for because they want to continue the family tradition. Players attend Mass together each Sunday morning wearing their forest-green jerseys as the pastor raises a hand in blessing and asks the congregation to pray for the team's success.
High school coaches around the area know what they get when a St. Thomas More product comes to their team: someone tough, hard-nosed, with solid fundamentals and educated in all the basics of the game.
At St. Thomas More, football is as much a religion as the Sunday morning Mass.
A running joke at STM is that the football coach has as much power as the priest at the church. Legend has it that there has been a common theme among disputes with the coach.
"Your coach told me to leave, he kicked us off the team," a parent would complain.
"Well," the priest would respond, "you'd better go, then."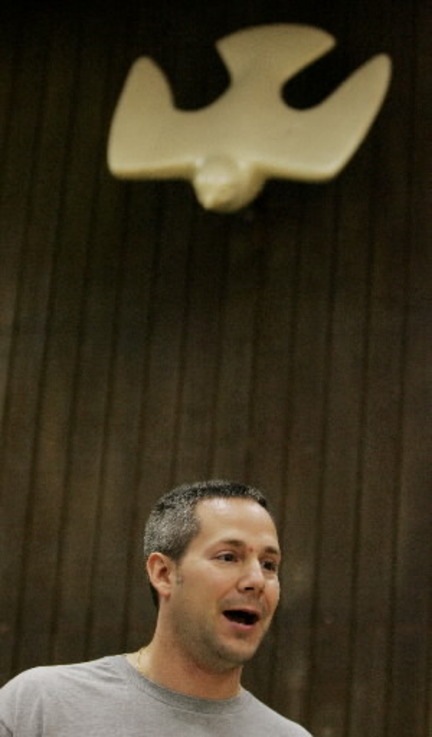 Since 1993, Slama has been the head coach of the seventh- and eighth-grade teams. He is a product of the football program, too, a former undersized center who went on to play at Holy Name. Slama manages the team's offense with such detailed precision that 169 plays appear on the laminated call sheet tethered to his belt loop at each game. Norm Stickney, meanwhile, oversees the defense with a demanding perfection that typically results in long unscored-upon streaks.
Every year, the two have offers to coach for area high school teams. Every year, STM athletic director Rob Previts stands up at the team's award banquet at the end of the season and publicly begs them to return.
He doesn't need to. When you play football at STM, it becomes a part of you. Practices are six days a week, and on the seventh day there is no rest — it's game day.
Ryan Fallon and his family heard about STM a long time ago. The Fallons' Old Brooklyn home overlooks the Jennings Freeway, and the family attends church at St. Leo the Great, just down the street. Ryan, with his serious face and chestnut brushcut, is in eighth grade at St. Leo's, too. But because the school doesn't have a CYO football team, he can play for the nearest parish that does. That's St. Thomas More.
Ryan began playing football when he was about 4 years old, tossing the ball back and forth with his dad, Mike, until his pipe-cleaner arm grew tired. When his younger brother, Kyle, started playing a couple of years later, they occasionally moved their games inside the house. They left a trail of broken couches from practicing tackles and broken lamps from errant throws.
In fourth grade, Ryan began playing organized football with STM, his strong arm labeling him as a quarterback immediately. He was a smart player from the start, someone who memorized plays and knew when to run them. He still laughs about how his first completed pass in a real game was to . . . himself. His bullet ricocheted off someone's helmet, bounced up, and he caught it. Once, in fifth grade, when the team's offensive coordinator was too sick to make the game, Ryan called his own plays without any assistance. His team won, 28-6.
He's quiet and steady, good qualities for a quarterback in the huddle when his team needs guidance. "Cerebral," his coaches call him — and he has the straight-A report card to prove it.
But he also has such a passion for football that he admits it's one of the main factors in how he will decide which high school to attend. He wants to go somewhere with a good program, somewhere he can learn and grow as a player.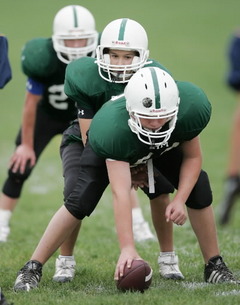 But because his build is slight at 5-6 and coaches are unsure how much he'll grow — his father, Mike, is 5-11 — high school coaches might be worried about taking a chance on him.
And Ryan simply has to go somewhere that will allow him to play. He must.
"I don't think he has the heart to stay on the sidelines," says his mom, Kathy Fallon.
Staying on the sidelines isn't going to be an issue for Ian Stuart. His body went straight from child to adult without an awkward teenage moment. He just began playing football two years ago and didn't even know positions of the game until sixth grade, but he's so naturally gifted that he's already one of the best players on the team. Last year, he already weighed more than the 145-pound limit that prevents players who weigh more than that from playing skill positions, so he's spent the last two years on the offensive and defensive lines.
But despite his size, Ian is also the fastest player on the team, always the first boy to cross the finish line in sprints or running drills. He has a raw aggressiveness and passion for the game that coaches are working to harness as he still learns the basics. Midway through last year, for instance, Ian confessed to his coaches that he was still learning the plays.
Already, St. Edward High School coach Scott Niedzwiecki has heard about Ian, listing him in the big spreadsheets that every high school keeps on potential prospects, and calls him the quintessential Ohio State linebacker — blond and brawny and fearless.
His mom, Valerie, just likes that Ian is spending time with positive male role models. His father has never been a part of his life, and Ian has been shuttled through public schools his whole life — something Valerie feels guilty about when she thinks of the Catholic-school education of her three older children.
But Ian began attending St. Thomas More in 2007, the private school finally affordable once Valerie remarried four years ago. He had to adjust to the higher expectations and stricter schedule, but his mother is thankful for the added discipline.
And she's particularly thankful for the football program where Ian has found a true fit for his athletic talents. He's always been competitive and bursting with energy, and football seems to be the perfect outlet for both those attributes. And then there's the family structure provided by the team — Ian has about 60 automatic brothers and a couple of demanding but caring fathers in Slama and Stickney.
Ian likes swimming and wrestling, too, but football comes so naturally to him, it's as if he's built for it. And it's the sport that allows him to feel more like a part of a family than any other.
It's not surprising that as STM's first day of practice draws to a close, Slama finds a way to encourage his team in a fatherly way.
"That's one of the best first practices we've had," he tells the seventh- and eighth-graders gathered around him in a circle. "I love when my job tells me we need to set the bar higher for you."
Meanwhile, St. Thomas More alums mill around the edges of the practice field. Some are fathers of the boys on the field. Others are recent products of STM there to scout the new crop of eighth-graders who will be carrying on the winning tradition they left behind. They help gather loose footballs and orange cones to clean up the field as the coaches talk to the mass of sweaty boys gasping for air after running sprints.
"You see all these guys helping out?" Stickney says, gesturing to the recent graduates. "They're here because we're a family."
Part 2: High school coaches turn out and watch St. Thomas More's season roll along, but then Ryan Fallon suffers a bad break
Part 3: It's nearly crunch time, and the high school selection process is as mysterious as ever to St. Thomas More's Fallons and Stuarts
Part 4: St. Thomas More's Ryan Fallon turns in his Catholic high school selection form, and must scramble to change it; Ian Stuart and his mom are won over